AP Website Access
2022-11-16T23:30:42+00:00
Since joining the AP Corp family earlier this year, Carolina Solar Security has had a lot of amazing opportunities presented. One of our favorites is the chance to expand our services to include commercial graphics. And guess what? We've officially completed our first installation-a wall mural at UNC Pembroke. Read on to learn more about how AP, Carolina Solar Security, and UNC Pembroke are working together to create beautiful custom spaces.
#BraveNation
Before we tell you all about the work we've done with UNC Pembroke, we want to tell you a little more about the university itself. Located in north Pembroke, North Carolina, UNC Pembroke is a public master's level degree-granting university and part of the University of North Carolina system.
The university offers its students hundreds of pathways to undergraduate and graduate degrees as well as small class sizes. And as far as campus life goes, students have a variety of activities they can take part in. But, as is usually the case with college kids, students bond over cheering for the university's NCAA Division II sports teams.
Our History with UNC Pembroke
While this is Carolina Solar Security's first 3M commercial graphics project, it's one of many UNC Pembroke installations for AP Corp. Beginning in 2019, AP and UNC Pembroke have worked together to create three different high-impact wall murals. These include a massive mural 42-foot mural in their gymnasium, a hallway mural showing snippets of the campus culture, and a conference room in their athletic building. Each wall mural at UNC Pembroke has been the visual embodiment of the UNCP Athletics Department's spirit, values, and victory.
This year, UNC Pembroke reached out to AP and Carolina Solar Security for yet another vinyl wall mural featuring their school's athletic excellence. But this time we got to do something a little different. We installed this custom printed mural in their newly renovated golf team locker room.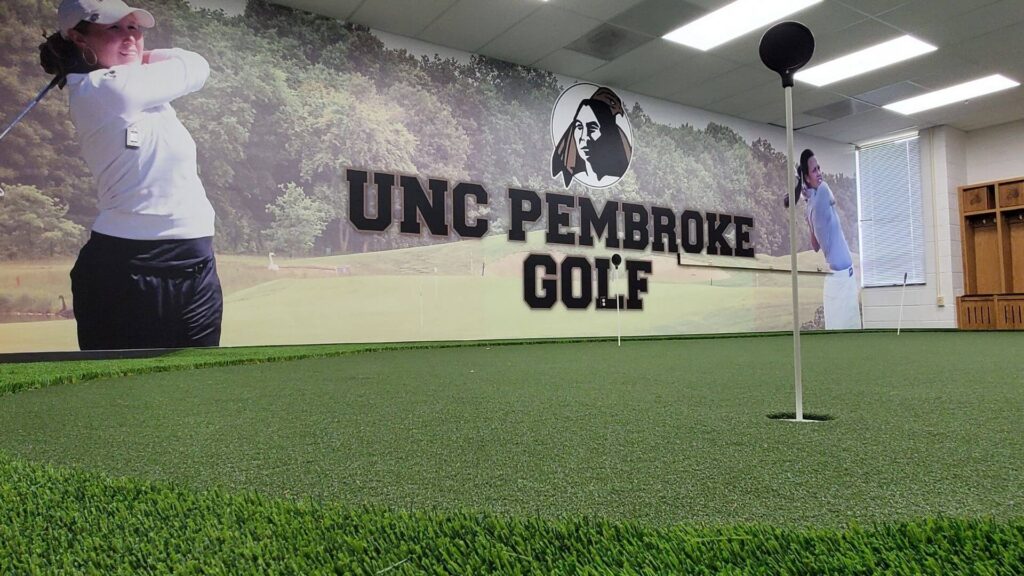 On the Green with UNC Pembroke
Let it be known that UNCP doesn't do anything in halves, and this locker room is no exception. Yes, it has all the usual accommodations, but they took this project a couple of steps further. They put in a literal putting green, turf and all. They contacted us in May 20222 to add a little bit of scenery and bring some personality to the space.
This scenery was a 32-foot mural of a golf course featuring real UNCP golfers, the team's name, and their mascot logo. Printed on 3M IJ 180, a 3M printed graphics material perfect for interiors and completed with a matte laminate, the mural adds a unique and inspiring backdrop to the unique interior features of the room.
The VIP Treatment
For a project as unique and large as this, we decided to pull out the big guns and give UNCP the VIP treatment. The installation was completed by Carolina Solar Security's Partner and Regional Operations Director, Luke McLawhorn. And at his side was AP Corp's CEO and founder, Bill Valway.
That's right, Carolina Solar Security and AP Corp both sent their #1 guys to get this job done, and their expertise really shows. A 32-foot mural can be a challenge for anyone to install, but this project included a couple of intricacies that would through other graphics professionals for a loop. These included the electrical outlets and a protruding electrical box. While some companies would have left these out of the installation, we wrapped them to preserve the mural's immersive effect.
Make Your Vision a Reality
Commercial Graphics can be a game-changer for any space. From the lackluster walls of a typical office to the plain white walls in a gym. They can bring people together, build team spirit, and inspire anyone to go all-out. At Carolina Solar Security we pride ourselves on delivering the best to our clients.  We are a one-stop shop that can design, print, and install your vision.
Carolina Solar Security is a certified installer of commercial graphics in the coastal Carolina region that offers turnkey solutions. Get in touch with us today to see how we can incorporate impactful commercial graphics into your North Carolina business.
A Hole-In-One at UNC Pembroke
AP Website Access
2022-11-16T23:30:42+00:00